Bore Cleaning Brushes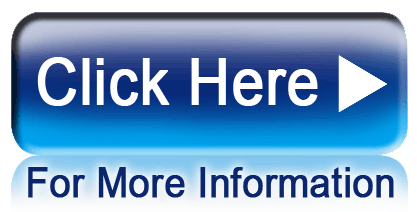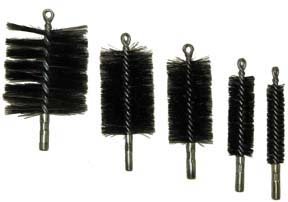 Double spiral, double stem, high carbon steel bristles. Order bore brushes the same size as your barrel ID. All brushes are slightly oversized to ensure proper surface contact.
Brush length: 4½"
Overall length: 8"
Thread size: ¼ NPT
Barrel diameters: From 3/4" to 4" and from 18mm to 100mm
Wire size: .0118
Packaging: Sold individually.
*Note: Single spiral, double stem with wire size of .030".
AMERICAN (Inches)
METRIC (Millimeters)
PART
NO.
BARREL
DIAMETER
PART
NO.
BARREL
DIAMETER
BB-34
3/4"
BB-18
18mm
BB-1
1"
BB-20
20mm
BB-114
1-1/4"
BB-22
22mm
BB-138
1-3/8"
BB-25
25mm
BB-112
1-1/2"
BB-28
28mm
BB-158
1-5/8"
BB-30
30mm
BB-134
1-3/4"
BB-32
32mm
BB-2
2"
BB-35
35mm
BB-218
2-1/8"
BB-36
36mm
BB-214
2-1/4"
BB-38
38mm
BB-212
2-1/2"
BB-40
40mm
BB-234
2-3/4"
BB-50
50mm
BB-3
3"
BB-55
55mm
BB-314
3-1/4"
BB-57
57mm
BB-312
3-1/2"
BB-60
60mm
BB-334
3-3/4"
BB-63
63mm
BB-4
4"
BB-64
64mm
*BB-6
6"
BB-65
65mm
*BB-8
8"
BB-69
69mm
BB-70
70mm
BB-80
80mm
BB-90
90mm
BB-100
100mm
*BB-150
150mm
*BB-200
200mm
---
Bore Brush Extension Rod
4' or 6' Twisted Steel Rod with Fittings
Thread size: Male ¼ NPT
Packaging: Sold individually.

PART
NO.
DESCRIPTION
ROD-4
4 foot length
ROD-6
6 foot length
---
T-Handle Extension
Designed for use with Twisted Steel Extension Rod
Dimensions: 4" x 2½"
Thread size: Male ¼ NPT
Packaging: Sold individually.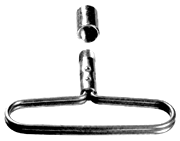 PART
NO.
DESCRIPTION
T-Handle
T-Handle Extension
---
Our bore brushes are comparable to the following brands: 3M, Anderson, Boretech, Braun, Brinko, Brushtech, Carlisle, Carolina Brush, Cocker-Weber, Dremel, ElasTek, Felton, Fiberbuilt, Fuller, Goodway, Gordon, Gornell, Herold-Partco, Industrial Brush, J.A.W., Jenkins, Justman, Magnolia, MBC, Mill-Rose, Milwaukee, Osborn, Parker, PFERD, Precision Brush, Regal, Schaefer Brush, Sealeze, Solo-Horton, Spiral Brush, Stanley, Tanis, Torrington Brush, Universal, Vermont American.

Manufacturers of High-Quality Products for the Plastics Molding Industry
Home | Request a Quote | Place an Order | Product Index | Online Catalog | Barrels & Screws | Electrical Products | Hoses & Fittings | Molding Accessories | SDS Sheets | Credit Application | Terms & Conditions | About Us | Contact Us

SERVICES FOR PLASTICS, INC.
800-627-1033
7925 N. Clinton St., Fort Wayne, IN 46825-3113, USA
E-mail: Sales@ServicesForPlastics.com
Contact Webmaster regarding content or link problems
Copyright 1997-2023 Services For Plastics, Inc. All rights reserved.