Sorbent Pads, Socs, Mats, and Kits

Oil Only Pads and Rolls
Universal Pads and Rolls
Universal Plus/Maxx
Sorbent Socs
Industrial Rugs and Mats
Portable Spill Kits
Loose Granular
Spill Containment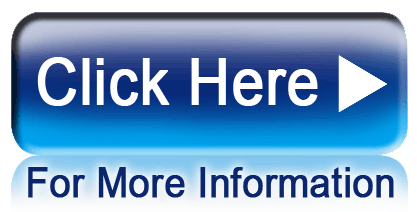 Oil Only Pads and Rolls

ENV™ Pads
ENV™ Pads are oil only contract grade sorbents that now include MAXX™ technology to make them more absorbent than ever before - without added weight or added cost! These pads repel water and float even when they're saturated with oil. ENV™ Pads work well for marine and industrial applications.



SPC™ Pads
SPC™ Pads are the original and still the favorite of many professionals for containing oil spills. Made with MAXX™ technology they're more absorbent than ever before yet still lightweight. Each pad is bonded for strength, dimpled and perfed so you can use one or more sheets at a time. Since they repel water, they're often recommended for outdoor use. Applications include: spill clean-ups, off-shore spills and outdoor industrial applications where lint is not a concern.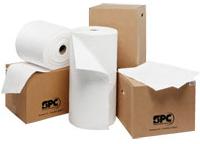 Oil Plus™ Pads
Made to absorb non-water soluble liquids, Oil Plus™ Pads are perfed so you can easily pull off the amount of sheets you need for the job. Multi-ply and heavyweight, they work well for indoor and outdoor petroleum clean-up in industrial and environmental applications.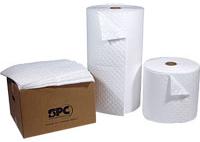 SXT™ Pads
Specifically for low-lint, oil only applications like food processing, high-tech industry, pharmaceutical and more, these SXT™ Pads are heavyweight and won't fall apart once saturated, The spunbond coverstock on both sides keeps lint to a minimum and makes pads strong enough to wring out and re-use. Perfed to cut down on excessive use.


---
Universal Pads and Rolls

GP™
GP™ is an all-around great sorbent that can be used on basically all fluids. It's a premium product with an economical price. And now it's even better with advanced MAXX™ technology that adds greater absorption qualities without adding weight. Anywhere there's a leak or a spill - you will find these pads indispensable.



MRO Plus
MRO Plus is our number one universal sorbent and comes in several weights and sizes to provide you with the exact sorbent you need for the job. Its 3-ply construction absorbs all industrial liquids, is more durable and reduces lint. Can be used basically anywhere there's a drip, leak or spill including machine, maintenance and liquid storage areas.



BattleMat™
Win the battle with BattleMat™. Heavy-duty construction and a camouflage pattern fight against leaks and spills in the work area. Can be used as mats under and around equipment or as a single perfed pad to soak up oil and other liquids.



UXT™ Xtra Tough Sorbents
Made "Xtra Tough" for the toughest jobs around. UXT™ Sorbents can handle any liquid be it water, petroleum or chemical based. Since it uses spunbond coverstock on both sides of the pad it's durable and low lint - even non-abrasive so pads can be used for wipe down applications. These pads are so tough you can wring them out and re-use.


---
Universal Plus/MaxxChemical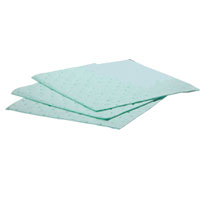 Because green is the universal symbol for safety, Universal Plus pads and rolls are created with a green tint to signify that these pads will soak up any liquid including hazardous chemicals and acids. Their 3-ply construction makes them stronger and reduces lint. Perforated so you don't create waste by pulling off more than is needed.
The only difference between the Universal Plus and MaxxChemical is their appearance. MaxxChemical is color-coded yellow for safety and easy separation. Uses include labs, hospitals and any other industry that uses hazardous fluids.
---
Sorbent SOCS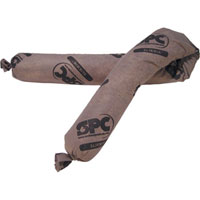 Routinely used for all kinds of spill containment, because they're flexible and dependable, Sorbent SOCs come in several different types for different jobs and a variety of liquids. The Slikwik® SOC is filled with all natural corncob and can soak up all liquids except aggressive fluids, Multiwik™ is a universal economy SOC that can be wrung out as well as incinerated. Not to be used on aggressive fluids. Allwik® SOCs are made from polypropylene and are suitable for use in most industries, and just like the Multiwik™, can be wrung out and incinerated. The Oil Only SOC is made from a special oil-only polypropylene that will not absorb water - just oil as the name implies.
---
Industrial Mats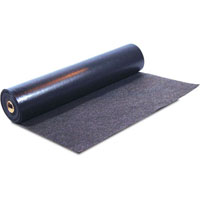 Make work a safer place with Industrial Matting. It can be used in high-traffic areas as well as at workstations to absorb water, oil and, in the case of the Barrier Spill Matting - even aggressive fluids. Matting is made from needle-punched polypropylene and stick to floors to keep workers from slipping. The dark color masks any drips or spills.
---
Portable Spill Kits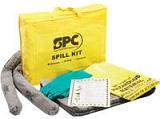 Allwik
Universal Allwik Portable Spill Kits are there for you in an emergency. The Economy Spill Kit™ is stored in a bright-yellow bag so it's highly visible at all times and can absorb five gallons of liquid per kit. The Attack Pac™ is a single-use kit packed in a silver-color foiled bag that's puncture and UV resistant. It absorbs up to seven gallons per each kit.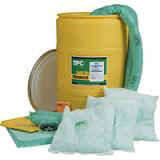 Hazwik
Lever locked 55 Gallon Drum is ready to respond quickly in an emergency. Bright-yellow drum meets UN specifications and can absorb a whopping 38 gallons of hazardous liquids per kit.
---
Loose Granular
Clean up spills easily and quickly with Dri-Zorb® Loose Granular, an all-natural corncob product that will quickly soak up cutting oils, water, grease and lots of other liquids. It's not recommended for use with aggressive fluids, though. Great for use in machine shops, food processing, aircraft maintenance and more.
---
Spill Containment
Eagle's spill containment pallets are offered in two sizes; a two drum size (dims: 51" x 26-1/4" x 13-3/4") and a four drum size (dims: 52-1/2" x 51" x 13-3/4"). Both are constructed of polyethylene for excellent chemical resistance. They can be moved easily by a forklift and have a secondary spill capacity of at least 66 gallons. Features include a 3/4" drain plug and grating with 1-1/4" square openings that removes for cleaning. Pallets meet EPA requirements for secondary spill containment of hazardous materials.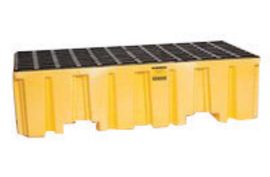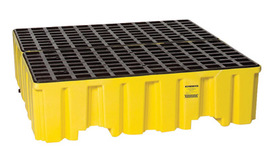 Manufacturers of High-Quality Products for the Plastics Molding Industry
Home | Request a Quote | Place an Order | Product Index | Online Catalog | Barrels & Screws | Electrical Products | Hoses & Fittings | Molding Accessories | SDS Sheets | Credit Application | Terms & Conditions | About Us | Contact Us

SERVICES FOR PLASTICS, INC.
800-627-1033
7925 N. Clinton St., Fort Wayne, IN 46825-3113, USA
E-mail: Sales@ServicesForPlastics.com
Contact Webmaster regarding content or link problems
Copyright 1997-2023 Services For Plastics, Inc. All rights reserved.