TVL Series
Vacuum Loaders

Click here To See All Auxiliary Equipment
A compact loader for all small throughput applications The TVL Loader's modular design is flexible and efficient. It offers no-tool access and push-fit assembly for fast clean-out.
Features:
Self-Contained
Throughput Up to 100 Pounds Per Hour
Modular Design
Available in Carbon Steel or Stainless Steel
Individually Controlled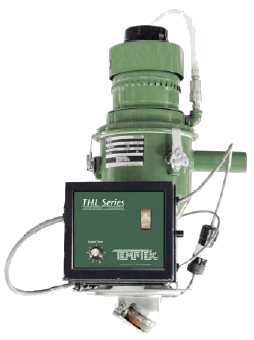 The TVL Series Vacuum Loader is more flexible and efficient than traditional hopper/loader set ups. Standard loaders can convey up to 50 pounds per hour, but with an optional filter blowback, the TVL Series can achieve rates up to 100 pounds per hour throughput.
No-tools access, quick-release motor assembly, drop-in filter and push-fit assembly make maintenance and material change fast and easy.
Each unit comes with its own controller which can be mounted on the loader, or at eye level with the optional remote kit.
Standard TVL Loaders are constructed of durable, painted carbon steel. Optional stainless steel construction is available for applications that require contamination-free conveying.
The TVL Series Loader offers flexibility with Temptek's mix and match components and options which allows this unit to be configured for your specific needs.
THL VACUUM LOADER SPECIFICATIONS


PERFORMANCE
MAX. INJECTION MOLD
MACHINE SIZE
300 Tons
MAX. EXTRUDER SCREW SIZE
1"
THROUGHPUT w/out BLOWBACK
50 lbs/hour
THROUGHPUT W/
BLOWBACK
100 lbs/hour
MAX CONVEYING
DISTANCE
25'
VACUUM MOTOR
3/8 HP
MATERIAL LINE SIZE
1.5"
VOLTAGE
12 volt/ 1 phase/ 60Hz
7
FILTER TYPE
Dacron Disc
FILTER AREA
31"
MATERIAL PICKUP DEVICE
Vertical Feed Tube and
10' Flexible Hose
COMPRESSED AIR REQUIREMENT
(for optional blowback)
PRESSURE
60 PSI
CONSUMPTION
1.4'/min
NPT FITTING
31"
WEIGHT
SHIPPING
40 lbs
OPERATING
13.9 lbs
DIMENSIONS
A - HOPPER DEPTH
6.5"
B - HEIGHT ABOVE
MOUNTING PLATE
18.5"
C - DEPTH BELOW
MOUNTING PLATE
2.75"
D - CLEARANCE HOLE
DIAMETER
6.625"
E - HEIGHT to CENTER
of MATERIAL INLET
9"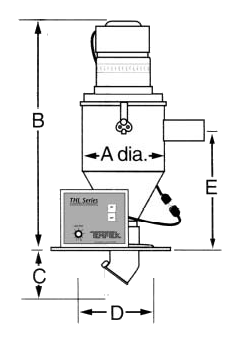 Manufacturers of High-Quality Products for the Plastics Molding Industry
Home | Request a Quote | Place an Order | Product Index | Online Catalog | Barrels & Screws | Electrical Products | Hoses & Fittings | Molding Accessories | SDS Sheets | Credit Application | Terms & Conditions | About Us | Contact Us

SERVICES FOR PLASTICS, INC.
800-627-1033
7925 N. Clinton St., Fort Wayne, IN 46825-3113, USA
E-mail: Sales@ServicesForPlastics.com
Contact Webmaster regarding content or link problems
Copyright 1997-2023 Services For Plastics, Inc. All rights reserved.