Tool Steel Barrels
For Injection, Extrusion, Thermoset and Blow Molding Applications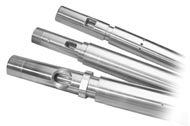 MATERIAL OPTIONS:

D-2 Tool Steel - Our most popular D-2 Tool Steel sleeve has been very successful in most molding applications including moderate concentrations of glass or mineral filled materials. One of the most wear resistant of the conventional tool steels, it is alloyed with 12% chromium and 1% vanadium which form very hard carbides. This high percentage of chromium gives it mild corrosion resisting properties in the hardened condition. D-2 Tool Steel is thru-hardened to maximize its wear life.

CPM®-10V Tool Steel - Crucible's CPM®-10V Tool Steel has proven itself for most difficult molding applications such as continuous use of glass, mineral, ceramic, calcium, and metal filled plastic materials. This extremely wear resistant tool steel is manufactured by the particle metallurgy process which makes it possible to alloy a high percentage (9.75%) of vanadium, which forms the hardest of the tool steel carbides.

CPM®-15V™ Tool Steel - Crucible's CPM®-15V™ Tool Steel is the newest in the family of high vanadium, highly abrasion resistant CPM® tool steels. It contains more hard vanadium carbides (14.5%) in its microstructure than CPM®-10V, to provide even higher wear resistance. CPM®-15V™ is intended for applications requiring exceptional wear resistance and where CPM®-10V is successful, but even longer life is desired.

CPM®-420V Stainless Steel - Crucible's CPM®-420V is a new stainless steel tool steel best suited for corrosion resistant applications. CPM®-420V is a higher performance upgrade for CPM®-440V. Corrosion resistance is significantly better than CPM®-440V, and wear resistance is about 25-50% better, due to the higher vanadium carbide content of CPM®-420V (9% vanadium vs. 5.5-6% in CPM®-440V).