Premium Mitutoyo Digimatic LCD Readout Micrometer
Coolant Proof Digimatic Micrometer with dust/water protection conforming to IP65 level. The precision-welded bar is placed at 0.00 point for completely accurate measuring. LCD Digimatic Readout display. Allows precision measuring with 0.00005"/0.001mm graduation. Functions: Origin-set, Zero-setting, Automatic power on/off, Data hold, Data output, and inch/mm conversion. Optional accessories available upon request.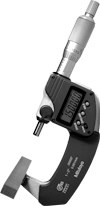 SFP micrometers are comparable with the following brands: ALFA, Azia, Brown & Sharpe, Dorsey, Empire, Facom, Fowler, General, Kafer, Mahr, Meda, Mitutoyo, Moore & Wright, Newport, PI, Physik Instrumente, Spectra-Physics, Starrett, Tesa, ThorLabs, Ultra, UPM, VIS, Westward, Yorkshire Precision, ZZW.