We offer three standard nozzle designs to match your molding needs. Choose from General Purpose, Reverse Taper and Full Taper. All designs are available as a Replaceable Tip Type or Solid Body Type and are available with or without TC holes. Cartridge heated nozzles are also available.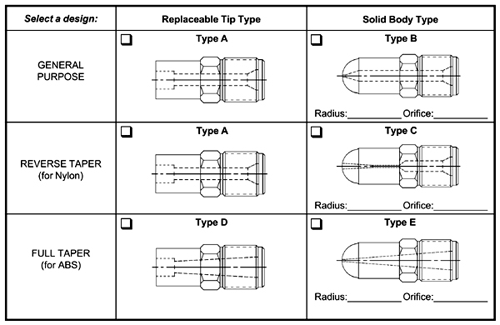 Replaceable Tip Type Nozzles -
For Van Dorn, Cincinnati and Nissei Machines

TYPE A - General Purpose and Reverse Taper (Nylon)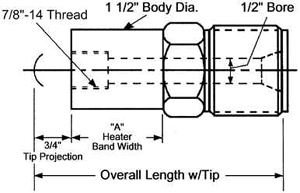 Thermocouple Holes
All Van Dorn and Cincinnati prices include thermocouple holes. Van Dorn nozzles are manufactured with one standard 1/8 NPT thermocouple hole. Cincinnati nozzles are manufactured with two thermocouple holes placed 180° apart; (1) ¼ -28 for standard Cincinnati machines, and (1) 1/8 NPT for other machines. For special TC holes, specify thread size and depth. Nissei nozzles are available with TC holes at an additional charge.
---
Solid Body Type Nozzles -
For Van Dorn Machines
TYPE B - General Purpose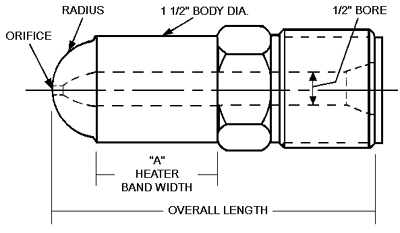 TYPE C - Reverse Taper (Nylon)