Abrasion Resistant Suction Hose
USH Series
Polyurethane lined, abrasion resistant PVC material handling hose with counter-clockwise spiral. Convoluted cover is made with low temperature, anti-static HMW PVC compounds for sub-zero flexibility. Smooth urethane liner provides resistance to abrasion and eliminates material build up. Uses counter-clockwise spiral double bolt clamps.

Tube: PVC
Liner: Polyurethane
Static Condition Service Temperature: -40°F to +150°F
Dynamic Condition Service Temperature: +22°F to +104°F
Colors: Available in Black Only
Sizes: Available in 1½", 2", 2½" and 3" I.D.
Packaging: Sold in full coil length only.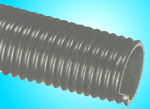 SFP hose is compatible with the following brands: Accuflex, Ace, Armstrong, BDI, delafield, Durodyne, Eaton, Flexcraft, gates, Goodyear, HMD/Thermoid, Jackson Industries, Kord, Kuriyama, Lab Industrial, Lincoln, Nova Flex, NRP Jones, Parker, Parker-Hannifin, Powertrack, Riverbend, Salem-Republic, Senior Flexonics, Swan Hose, TCH, Thermoid, Tifco, Tift, Titan industries, US Hose, Willcox.