Extrusion Die Soap
Part Number: EDS
General purpose cleaning for Barrels and Feedscrews!
SFP Extrusion Die Soap is the ideal way to safely clean your plastication components: barrels, feedscrews, screw tip assemblies and endcaps. SFP Extrusion Die Soap can quickly remove carbon and plastic residues without time consuming hand polishing.
It is a general purpose cleaning compound consisting of: fine abrasives, high quality grease binder, stearic acid, hydrogenated glyceride, yellow petrolatum, jap wax, and amorphous silica 600.
Good for cleaning feedscrew before removing
General purpose cleaning compound that consists of fine abrasives
Removes carbon and plastic residues
Pushes through safely cleaning components
Safe for use of temp. of at least 150ºF
PRODUCT SPECIFICATIONS
1 bar 2"x 2"x 9.5", 16 Bars Per Case
Weight 48 lbs per case, approx. 3 lbs. per bar
SAFETY DATA SHEETS
EDS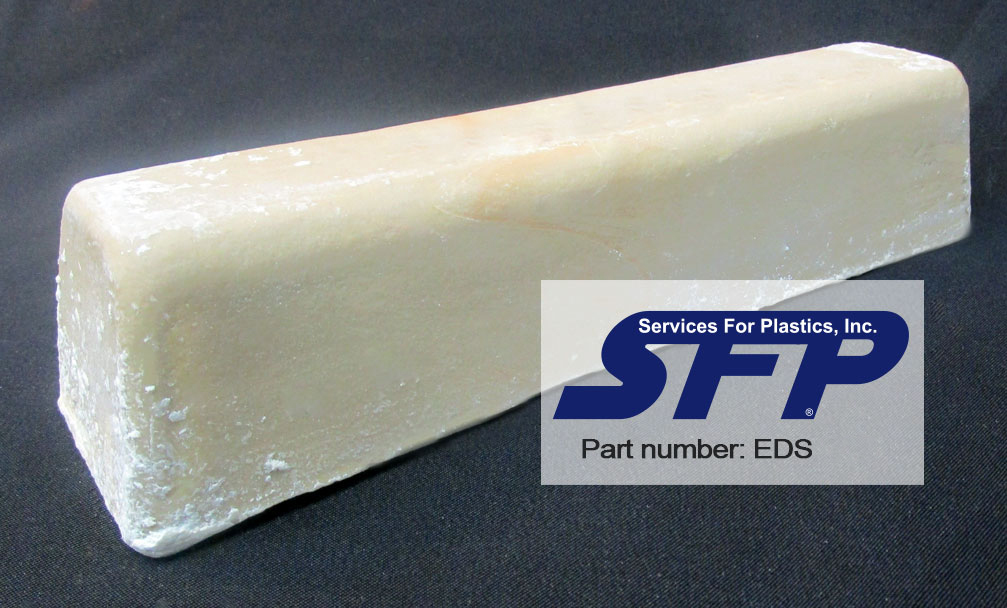 INSTRUCTIONS FOR CLEANING
FEEDSCREWS AND BARRELS
Cut bars into small pieces.
The barrel's temperature must be at least 150ºF.
Put SFP Extrusion Die Soap into the feed throat of the barrel.
Lower the feedscrews rpm's.
SFP Extrusion Die Soap will be pushed through the extrusion unit, cleaning out the carbon and plastic residues.
INSTRUCTIONS FOR CLEANING
MOLD SURFACES
Hold soap directly on mold surface which is at least 150ºF.
The soap will melt covering any residue on the surface.
Allow soap to soak on surface for at least 5 minutes, more if necessary.
Remove soap and residue with copper gauze.